Quartet For Viola, Cello, and Digital Processor


premiered April 26, 1993

Cynthia Fogg, viola; Tom Flaherty, cello

"Digital processing turns a viola and a cello into a quartet in Tom Flaherty's Quartet for Viola, Cello and Digital Processor. Through time delay and pitch transposition the viola is fractured into a trio with itself. The viola is the star, preening in front of a three-way mirror, while the cello lays down the velveteen cushion. The piece is both pretty and fun." [Dinosaur Annex]

– Richard Dyer, The Boston Globe




Quartet For Viola, Cello, and Digital Processor is the second in a series of pieces for acoustic instruments and digital processor, in which my object has been to make maximum use of the simplest algorithms. In Quartet, the viola is the principal voice; its output is constantly delayed and transposed (down a whole step in one channel, up a half step in the other.) When the delay pattern is overlaid with further live playing several different tempi and meters emerge from the composite, although delay times (and transpositions) are actually constant throughout the piece. The cello plays a supportive role, and its only electronic modification is a slight flanging and phasing that is most noticeable the during longer notes at the end of the piece. Quartet is lovingly dedicated to my wife and performing partner, Cynthia Fogg.
Quartet can be heard on Bridge Records, SEAMUS Recordings, and iTunes.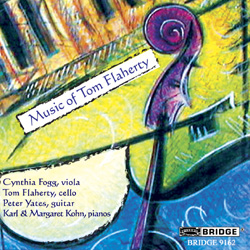 Music of Tom Flaherty
Vorarlberg Resonance
Karl and Margaret Kohn, piano four-hands
Timeflies
Peter Yates, guitar; Tom Flaherty, cello
Trio for Cello and Digital Processor
Tom Flaherty, cello
Semi-Suite
Tom Flaherty, cello
Quartet for Viola, Cello and Digital Processor
Cynthia Fogg, viola; Tom Flaherty, cello
Time to Travel
Karl and Margaret Kohn, pianos
BRIDGE 9162
Quartet for Viola, Cello, and Digital Processor
performed by Cynthia Fogg, viola; Tom Flaherty, cello

SEAMUS Volume 5