Semi-Suite

for solo cello

premiered April 20, 1990
Tom Flaherty, cello
Pasadena Conservatory of Music
"Flaherty's Semi-Suite let the cello be its haunting self; the composer-cellist played it splendidly, first the touching movement called "Lament", then the technically challenging "Trilling." "
– Peter Jacobi, Herald-Times Reviewer (Bloomington, IN)
"Tom Flaherty's Semi-Suite for solo cello, a piece as amusing as its title and even more arresting, got a fervent, terrifically deep-toned performance by Robin Bonnell."
– Joshua Kosman, The San Francisco Chronicle
"...soloistic tour de force"
– Ken Smith, The Gramophone
Semi-Suite consists of two movements of an originally projected larger suite, for unaccompanied cello. As it turns out, the movements do seem to complement each other and the name is too appealing to give up, so it will likely stand as it is.

"Lament" is a slow movement based on a short tune first presented high on the C string, in imitation of a wooden flute. The tune is fragmented and gradually reassembled, finally appearing well above the normal cello range, in harmonics.

"Trilling" is a response both to my interest in rhythmic and metric interaction and to the frustrating boredom of practicing standard trill studies as a cello student. The movement proceeds with a nearly constant measured trill on one string while a slower moving line on adjacent strings continuously redefines the metric meaning of the trill. A short cadenza in the center of the piece leads to a varied recapitulation of the main idea.
sheet music available at cellos2go.com
Recording available on Bridge Records and iTunes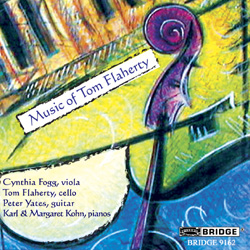 Music of Tom Flaherty
Vorarlberg Resonance: Karl and Margaret Kohn, piano four-hands
Timeflies: Peter Yates, guitar; Tom Flaherty, cello
Trio for Cello and Digital Processor: Tom Flaherty, cello
Semi-Suite: Tom Flaherty, cello
Quartet for Viola, Cello and Digital Processor: Cynthia Fogg, viola; Tom Flaherty, cello
Time to Travel: Karl and Margaret Kohn, pianos
BRIDGE 9162
Lament score excerpt
Trilling score excerpt