Timeflies

premiered 11/1/96
by David Starobin, guitar; Tom Flaherty, cello
Bridges Hall, Pomona College
Claremont, CA



Timeflies: In the first movement, "slowly we turn..." the guitar sets up a clear beat which is continually challenged by each instrument in turn, with various syncopations that often become the new beat. The resulting motion ranges from the serene diatonic opening to the frenzied, fairly chromatic closing hocket passage. In "...gliding..." the cello plays a simple tune in natural harmonics, while the guitar arpeggiates an accompaniment. "when we're having..." is a playful movement in which the beat is constantly challenged by regroupings and syncopations, but it refuses to be swayed from its steady pace, no matter what the distraction. Timeflies was commissioned by the National Endowment for the Arts for David Starobin.
Sheet music is available from American Composers Alliance
Timeflies is available on Bridge Records and iTunes.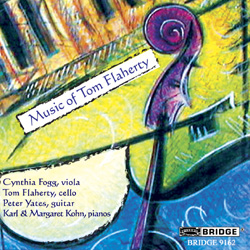 Music of Tom Flaherty
Vorarlberg Resonance: Karl and Margaret Kohn, piano four-hands
Timeflies: Peter Yates, guitar; Tom Flaherty, cello
Trio for Cello and Digital Processor: Tom Flaherty, cello
Semi-Suite: Tom Flaherty, cello
Quartet for Viola, Cello and Digital Processor: Cynthia Fogg, viola; Tom Flaherty, cello
Time to Travel: Karl and Margaret Kohn, pianos
BRIDGE 9162